Bugatti Group goes above and beyond in the face of adversity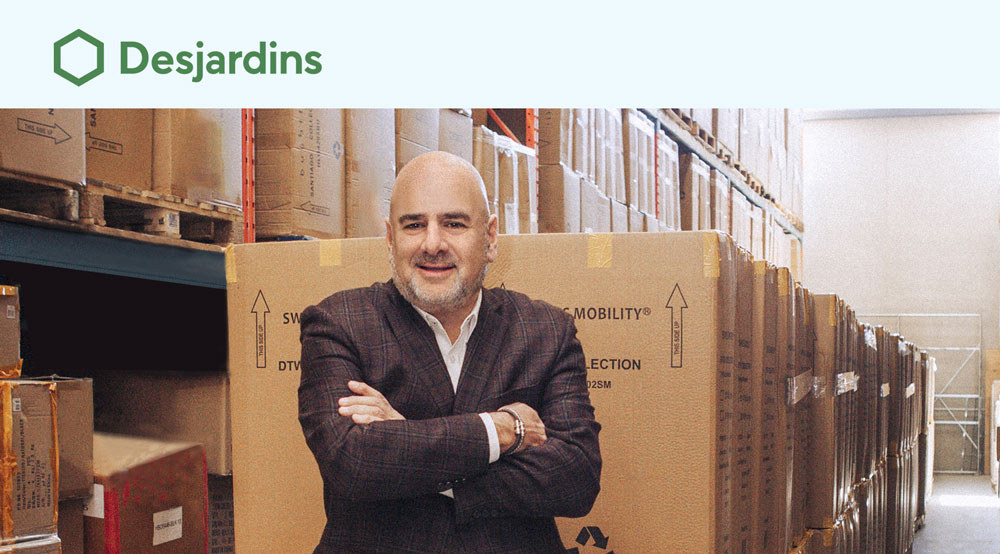 The COVID 19 pandemic has given rise to gestures of solidarity across the business community. In these uncertain times, Bugatti Group is doing their part by generously supporting food banks.
Pressing pause
On March 23, 2020, the provincial governments in Quebec and Ontario ordered all non-essential businesses to close. In response, Andrew Hattem, CEO of the internationally renowned luxury handbag and luggage label Bugatti Group, addressed the company's 52 employees by video conference.
"Everyone was in shock. This was uncharted territory! The headlines were full of closures and layoffs, so to reassure my team, I told them to take a few days off and spend time with their families.
During that time, my directors and I considered our company's options. Our head office is in Boisbriand. Thanks to the federal government's emergency 75% wage subsidy, we were able to keep most of our employees on the job."
Bugatti masks
In the face of the unprecedented COVID 19 crisis, the Basses-Laurentides business added another product to their catalogue by creating a line of non-medical face masks. "The Public Health Agency of Canada recommends wearing a mask in public, and demand is growing! Bugatti Group believes that washable, reusable fabric masks are here to stay and we want to be a major player in that Canadian market."
Springing into action
In an unprecedented display of solidarity, several Quebec companies leapt into action in response to the COVID 19 health crisis.
Bugatti Group mobilized in record time to provide much-needed support for food banks. "Food bank services are even more essential during the current health crisis," said the CEO.
"During a video conference with my team, I brought up the idea of supporting our community and doing our civic duty to make sure no one goes hungry. Just 72 hours later, our new #Everythingwillbeok collection was born."
Donating $35,000 for food aid
Although most of the employees were working from home, bringing the #Everythingwillbeok collection to life helped them feel less isolated. "Even though we were all working apart, everyone was committed to making a difference in the fight against COVID 19 together. We added the inspiring rainbow logo to backpacks, lunch bags and other products from our inventory."
Teams from management, marketing, online sales, embroidery… everyone rolled up their sleeves and got to work! "100% of the proceeds from this collection will be donated to food banks. In other words, 1 bag = 1 donation. So far, we've donated $35,000—and we're not done yet!" said the compassionate entrepreneur.
To check out the collection, visit bffashionbags.com
Opportunities
The travel industry as been severely affected by the pandemic, and that has had a direct impact on sales of luggage and travel bags. "Our products have always stood out for their excellent quality, and now we're adding a safety angle. Seamless luggage with washable anti-virus covers? Why not! This crisis is pushing us to rethink our products and make something even better," said Andrew.
Getting back to business
On May 4, employees returned to their offices and the distribution centre in Boisbriand. There's a hand-sanitizing station at the entrance and the space has been rearranged to allow for physical distancing. There are also scheduled breaks for handwashing and disinfecting, and some employees are still working from home.
"Long gone are the days of greeting suppliers at the office with a firm handshake. The COVID 19 crisis has changed how we do things in business. We're adapting, and I'm prouder than ever of our team," said Andrew.
Keeping healthcare workers healthy!
Bugatti Group generously donated 5,000 duffle bags to staff in COVID 19 care units at Cité de la santé, Sainte-Justine and the Jewish General Hospital in Montreal. "Employees can use these washable bags to safely carry their clothes back and forth from the hospital, keeping our essential workers healthy!" said Andrew.