The Bugatti Group and Etienne Boulay donates $40,000 in essential products for mothers and children in Ukraine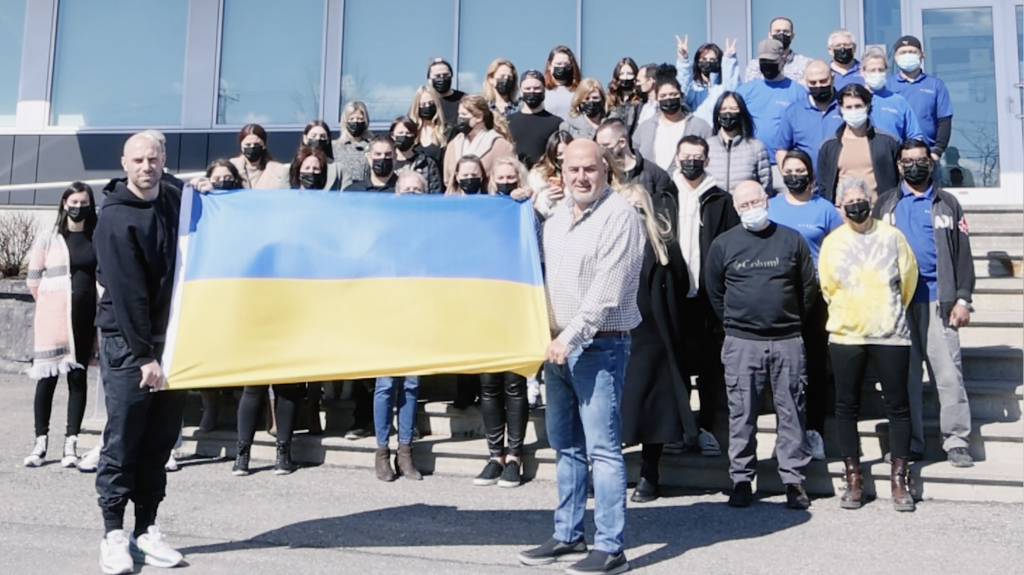 The Montreal company wants to lend a hand in this conflict which affects several thousand Ukrainian refugees, especially mothers and children who had to flee the country.
Montreal (Quebec), March 19th 2022 – The Bugatti Group Inc. and their ambassador ex-football player Étienne Boulay, have contributed to a donation helping refugees from the ongoing war in Ukraine. The $40,000 donation consists of infant formula, baby wipes, diapers, baby pacifiers, hand sanitizer and diaper bags. The company, with the mission of always helping those in need, wanted to get involved in the international humanitarian aid for Ukraine and more particularly with mothers and children who have fled to neighboring countries. With the help of St-Michael's Ukrainian Catholic Church in Montreal, which will send the donations to Poland and other neighboring countries, the Bugatti Group makes sure to provide much-needed goods to refugees in need.
"The Ukrainian people are currently living in an extremely difficult situation and need help from the rest of the world. As a company that manufactures and imports bags, the terrifying reality of mothers and children having abandoned their homes, taking with them only a few bags and suitcases of their belongings, has deeply affected us. This is why we wanted to get involved and directly help mothers and their children by sending our diaper bags and essential supplies." explains Andrew Hattem, CEO of the Bugatti Group.
"Over the years, I've built a very close relationship with Bugatti, so I immediately agreed when Andrew contacted me asking if I wanted to join forces with them for this donation. The situation in Ukraine is devastating and we all need to contribute and help in any way we can." says Étienne Boulay, ex-football player and Bugatti ambassador.
The Bugatti Group, with the help of Étienne Boulay, will deliver a truck full of donations of bags and baby supplies as well as monetary donations collected among its employees this Monday, March 21, 2022 to St-Michael's Ukrainian Catholic Church at 2388 Iberville Street in Montreal. The church welcomes donations from both companies and individuals and ensures the logistics and safe transport of the goods.
About Bugatti Group Inc.
Recognized for its expertise, its innovation and for the quality of its products, The Bugatti Group Inc. is a North American company that designs, manufactures, imports and sells bags, suitcases, business bags and certified sanitary products all over the world. With its head office in Quebec and its offices in the United States and Asia, The Bugatti Group is also present on international markets with its flagship brands and its global brands, under license.